Sixth Rest Stop: Winter Garden
0
Sixth Rest Stop: Winter Garden
0
I have crossed into Orange County, the home of Orlando and Disney World! I reached Winter Garden about five miles into today's ride.
(The oranges are from my neighbor's tree. Obviously one had gotten itself a cap since I last checked.)
The postcard shows Winter Garden's clock tower, backdropped by the historic
Edgewater Hotel
, now a bed-and-breakfast inn.
Long before Disney opened his first theme park, Winter Garden had the
Garden Theatre
. The theater first opened in December 1935, while Disney was working on
Snow White and the Seven Dwarfs
.
In 1963, eight years after the opening of Disneyland in California and as television pulled people away from movie theaters, the Garden Theatre closed. It became a farming supply store, where the interior seating was removed and the sloped floor was filled and leveled with cement. (Source:
Wikipedia
)
The
Winter Garden Heritage Foundation
acquired the building in 2004 and completed its restoration four years later. These days, the Garden Theatre is Winter Garden's primary performing arts center, serving as a movie theater and multi-purpose venue.
Winter Garden also has a historic residential district and and a downtown historic district. Both are in the U.S. National Register of Historic Places.
House in the Historic Residential District.
Building in the Downtown Historic District.
The Downtown Historic District also includes the Central Florida Railroad Museum:
Winter Garden borders Lake Apopka, Florida's fourth-largest lake.
Once known as the "bass capital of the world," the lake is fighting to overcome a pollution problem. Winter Garden's Newton Park is one of two sites slated for dredging this coming spring.
In the meantime, don't feed the alligators!
Speaking of feeding, in Tuesday's New Member Chat I said I had just come back from the supermarket. Sunshine=Sometimes wondered what my VRide food is -- so here's how I keep myself fueled:
Protein sources:
Tongol tuna, no salt added; canned free-range chicken; Greek yogurt (both plain and with fruit; I learned about Greek yogurt from Denise!); canned organic garbanzos; cheddar; dry roasted unsalted peanuts; walnut pieces. The nuts and cheese are high in calories and fat, so they're controlled substances. :-) I'll have red meat on rare occasion.
Veggies:
lettuce, frozen broccoli, frozen green beans, frozen Brussels sprouts (nothing added to any of the vegetables, e.g., no sauces built in), potatoes, canned crushed tomatoes, plain pumpkin puree, onions, cabbage. For emergencies (e.g., if I've forgotten to restock the fridge) I keep canned spinach. I also keep liquid vegetables in the form of low-sodium V-8.
Fruits:
bananas, oranges, grapes, canned pineapple, raisins, prunes. The dried fruits were my bridge between energy bars/candy and what I mainly have now, which are the fresh/canned fruits.
Carbohydrates/sugars:
crispbread (I'm partial to WASA Multigrain), honey.
Condiments:
extra-virgin olive oil (which I mix with white vinegar, lots of garlic powder, and paprika, to make homemade salad dressing); hot sauce (added to, among other things, the low-sodium V-8, to give it a kick).
COFFEE!
(black). And (for variety) Guayaki Chocolatte mate tea, which tastes like a liquid dessert when I add honey.
Not only are my food choices healthier now than before, they've reduced my grocery bill! :D Part of that is also due to the fact that I eat less than I used to.
Also -- since my partner usually needs to eat whenever we go to a doctor's appointment (and often when we're just doing errands), I carry my own meal in a little cooler (5.5 x 6 x 9 inches) that looks similar to this one:
That way, especially if we stop at a fast food place, we can each have what we want. I usually pack crispbread, canned chicken, and a banana. I also carry camp utensils with me, similar to these:
In the set I have, the utensils are detachable.
While I'm on my bike I'm going to take a spin on the West Orange Trail, a 23-mile-long Rail Trail that winds through a mixture of rural and suburban landscapes.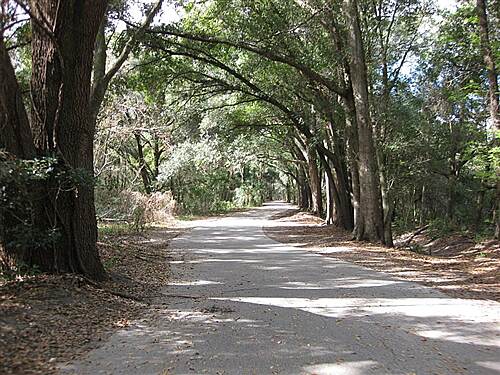 My progress after Day 6 -- 13.25 miles traveled in 62.5 minutes for a total so far of 79.25 miles -- with 18.75 more miles to get to Jane's!
Like this article? Share on social
Join our mailing list
Sign up to receive our newsletter that includes caregiving tips, news, support and more.